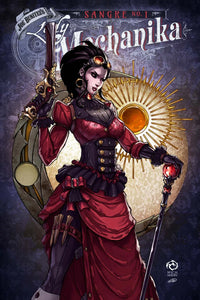 LADY MECHANIKA: SANGRE #1 JESSE WICHMANN EXCLUISVE
Your choice of unsigned or signed

Written By: Joe Benitez, M. M. Chen

Interiors: Brian Ching, Joe Benitez, Martin Montiel

Cover Art: Jesse Wichmann, Tevan

Lady Mechanika journeys to the Spanish countryside to hunt a demonic creature allegedly stalking the local bar n's son, but she quickly begins to suspect there's more to the case than meets the eye.

What dark secrets are the Bar n and his wife so desperately trying to hide?

Features a main story drawn by guest artist Brian Ching (Supergirl, Star Wars) with a prologue by Benitez and Montiel.