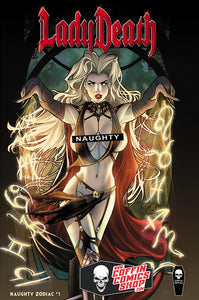 LADY DEATH ZODIAC #1 RETAIL NAUGHTY EDITION NEIL RUFFINO
NOW IN STOCK!

lushly illustrated with insane detail by Nei Ruffino and written by Bob Vardeman, explores the twelve signs of the Zodiac from a pagan perspective with the Diva of Death front and center. It's the Zodiac as only Lady Death can present it: dark, dangerous and diabolical!




Special limited Naughty Edition contains all "naughty" interior art!




Full color, 28 pages. One-shot.