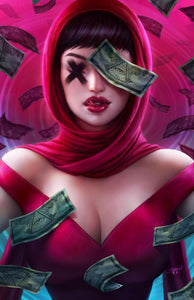 DEPARTMENT OF TRUTH #14 SUN KHAMUNAKI VIRGIN LTD 500 COPIES
THIS IS A SHARED COMIC CONNECTION EXCLUSIVE 
NOW IN STOCK! 
Origin of the Lady in Red!
In 1946, Scientology founder L. Ron Hubbard and eccentric rocket scientist Jack Parsons performed a series of rituals to summon a divine feminine being. Her name was Babalon. She was dressed all in... RED.